by Liz Thomas

Inside caption - 'Wishing you a Merry Christmas and a Happy New Year'

Square - 158 x 158 mm
Printed

 

in the UK on FSC certified, 100% Recycled Paper

Individually packaged with a recycled white envelope using a 100% recyclable sticker
Whistlefish Naked Cards - Sustainable Zero Plastic Card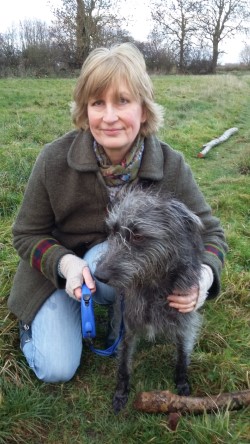 'I live in Nottinghamshire and am married with a grown-up daughter, Alice.
I trained as an occupational therapist and then went on to work in NHS hospitals, but always painted in my spare time. However, while my daughter was still young I decided to give up my job in the NHS so I could concentrate on looking after her - this also gave me much more time to devote to painting.
Much of the inspiration for my art-work comes during my daily walks with Eric, the little lurcher, who also makes an appearance in some of my designs!
I am passionate about wildlife and the countryside and I try to include elements of this in as many of my designs as possible.
I have been an active member of my village's Environment Group since it formed over 20 years ago and during that time have helped plant hundreds of trees, wildflower and hedge plants and cleared countless bags of litter. I also help with a local Toad Patrol.
I also enjoy gardening, pottery, quilting and anything creative!
No reviews yet, check back soon!
Card, Wrap & Gift orders greater than £25 will be delivered free to UK addresses. If the value of your order is less, you will be charged £3.50.
Prints & Card Frame orders greater than £150 will be delivered free to UK addresses. If the value of your order is less, you will be charged £5.00.
Framed Prints & Canvas orders are only available to be delivered to UK addresses and the shipping fee is £15.95.
Gift Sets & Hampers will incur a £15.95 delivery charge.
For more information about our delivery options please click here.
We want you to be happy with everything you purchase from us. If you are not happy you can return most items within thirty days of receipt as long as it is unused and in its original packaging.
We will be happy for you to exchange the item for a full refund. We are unable to refund any return postage charges and an exchange will incur an extra delivery charge.
For more information please click here.