Porthminster Blue
SKU: C783
Free delivery on Card, Wrap & Gift orders £25+
Porthminster is an idyllic place for a holiday, with its wonderful sands and bluer-than-blue sea. Bring some holiday cheer to the lucky recipient of this lovely greetings card by artist Alan Furneaux, on a birthday, anniversary or other special event. Blank inside for you to write your own loving message.
Porthminster Blue Card
Blank inside for a personal message
Square - 158 x 158 mm
Printed in the UK - FSC certified
Individually packaged with White envelope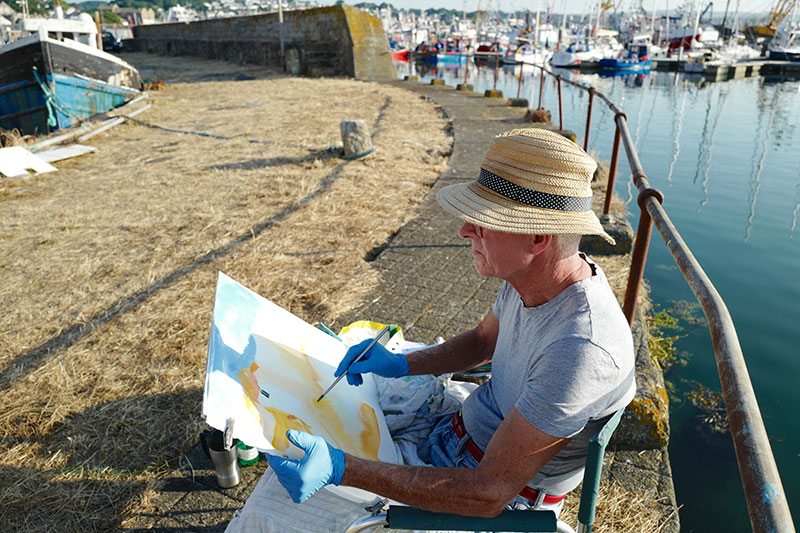 Artist Alan Furneuax is a neighbour to us Whistlefish lot, living in Penzance at the end of Cornwall. Alan looks the part of an artist travelling around Europe and his happy demeanour is poured into his brilliantly bold artwork.
'I live and work in Penzance. I work in oil mostly and am loosely defined as a Naive Style artist. My work has been widely published including America and Canada.
During the summer I like to go out in the open air and paint and during the cold wet winters I stay in my studio creating every day except weekends from my imagination drawing on summer experiences.'
A favourite card that I repeatedly order ,so versatile.
Cheerfull card to send to friends
Love the colours of this card .... reminds me of lovely days out by the sea!
Bright colours and suitable for lots of occasions
Lovely quality and good value as always
very holiday place on a card :)
Lovely brightly coloured card
Love these cards. I have framed them for my daughter who lives in London, to remind her of home
I love the local artists work makes a very nice card
Fantastic cards just love all the designs of the West Country and the dog x
Fabulous top quality cards at a reasonable price!
,Appropriate for male or female, could be used for the any celebration, or just keeping in touch. Good quality. Excellent service
Card, Wrap & Gift orders greater than £25 will be delivered free to UK addresses. If the value of your order is less you will be charged £3.50.
Prints & Card Frame orders greater than £150 will be delivered free to UK addresses. If the value of your order is less you will be charged £5.00.
Framed Prints & Canvas orders are only available to be delivered to UK addresses and the shipping fee is £9.95.
Gift Sets & Hampers will incur a £9.95 delivery charge.
For more information about our delivery options please click here.
We want you to be happy with everything you purchase from us. If you are not happy you can return most items within thirty days of receipt as long as it is unused and in its original packaging.
We will be happy for you to exchange the item for a full refund. We are unable to refund any return postage charges and an exchange will incur an extra delivery charge.
For more information please click here.