Rose Petal Candle
SKU: SACC01VAL
Free delivery on Card, Wrap & Gift orders £25+
This beautiful, locally-made candle from St Agnes Candle Co makes a gorgeous gift for Valentine's Day. Create a relaxing, romantic night in for your loved one and watch the wax melt away exposing scented rose petals, essence of Vanilla, Pink Pepper and Citrus aromas.

100% Natural Wax with a mix of Rapeseed, Coconut and Soy
Rose Essential Oil
Vegan, non-toxic wick
Approx. 220g per candle
Burn time 40 hours
All are made in St Agnes, Cornwall
Delivered in an elegant box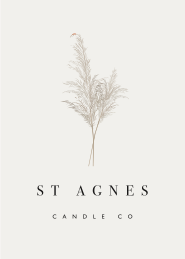 St Agnes Candle Company is a local start-up company, producing handmade 100% natural candles in an old milking barn, surrounded by fields in St Agnes, Cornwall.
No reviews yet, check back soon!