We're thrilled to be launching a brand new print from the latest addition to the Whistlefish artist family, the fabulously talented Nicky Chubb. This striking and vivid piece of art is available in a gigantic canvas or grand framed print. We are also delighted to announce we will be using some of the proceeds from the sales of these impressive sized pieces to fund a donation to our friends at Cornwall Hospice Care. With delivery included in the price, this colossal piece is perfect to make a statement in your living space.
Artist: Nicky Chubb
Type: High quality Art print
Theme:Contemporary Nature
Orientation: Square
Framed Size: 950 x 950 mm
Print size: 700 x 700 mm
Other: Arrives ready-to-hang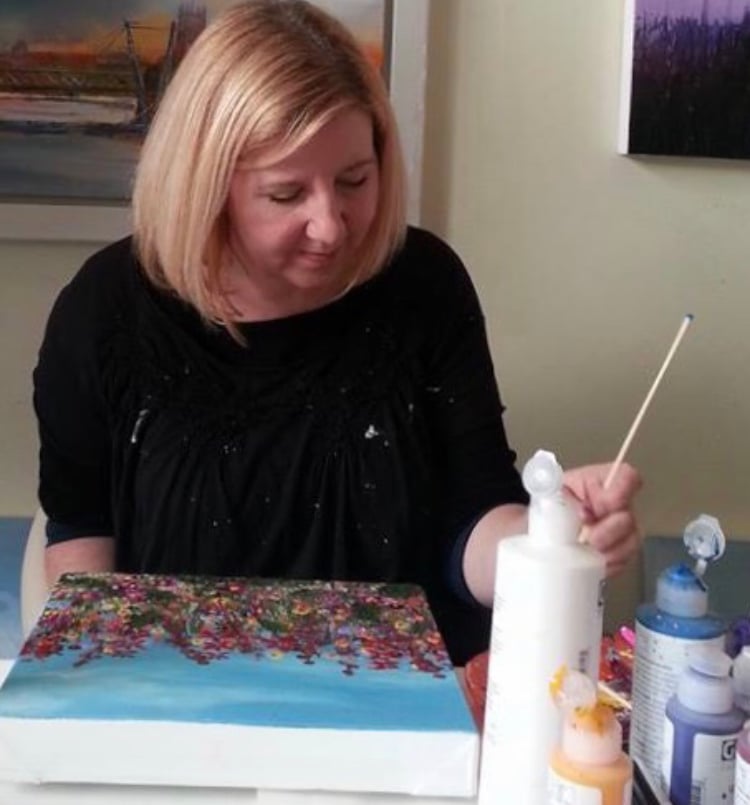 Nicky's work is essentially optimistic, whether she's painting flowers or the sea, the emotions she aims to evoke are hope and happiness.
We are pleased with our print it is well made and uses quality materials. The only improvement would be to offer the option of non reflective glazing as it acts as a large mirror at some times of the day as the light changes in the room .
Lovely print and really well boxed up! arrived immaculate! would of given 5 stars had the frame been white not cream, would look nicer against my white wall, maybe a white frame could be offered as an option! Over all very pleased, looks great on the wall!
Beautiful colours in this print, so the natural framing compliments the tree taking nothing away from what you see. Gorgeous. Love it.
I saw this print in the Fowey gallery and it looked stunning and I'm happy that it looks just as impressive in my home too! Good delivery service.
Fantastic print.. Very fast delivery, very well packaged.. Can not be happier Thank you...
This is a spectacular picture! My wife saw it on display in the window of the Whistlefish Gallery when we visited Falmouth in September 2019. I clocked how much she liked it and ordered it for her as a Christmas present and I was really pleased it was available to mail order. I'm happy to say she was really thrilled with it and it now has pride of place in our living room where I'm sure it remain for years to come. Thanks Whistlefish!
Very nice in my mums house
A lovely piece which is now in prime spot in our little girl's nursery! Lots of packaging but that helped it arrived safely.
Absolutely beautiful. I'm delighted with my new print.
Card, Wrap & Gift orders greater than £25 will be delivered free to UK addresses. If the value of your order is less you will be charged £3.50.
Prints & Card Frame orders greater than £150 will be delivered free to UK addresses. If the value of your order is less you will be charged £5.00.
Framed Prints & Canvas orders are only available to be delivered to UK addresses and the shipping fee is £9.95.
Gift Sets & Hampers will incur a £9.95 delivery charge.
For more information about our delivery options please click here.
We want you to be happy with everything you purchase from us. If you are not happy you can return most items within thirty days of receipt as long as it is unused and in its original packaging.
We will be happy for you to exchange the item for a full refund. We are unable to refund any return postage charges and an exchange will incur an extra delivery charge.
For more information please click here.