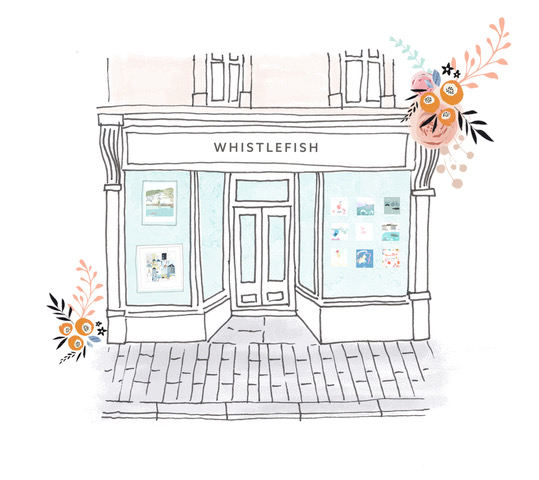 Salcombe Gallery
Location
Whistlefish, 75 Fore Street, Salcombe, Devon, TQ8 8BU
View on map
Opening times
Monday

09:30 to 17:30

Tuesday

09:30 to 17:30

Wednesday

09:30 to 17:30

Thursday

09:30 to 17:30

Friday

09:30 to 17:30

Saturday

Today

09:30 to 17:30

Sunday

10:00 to 16:00
We are so excited to be opening the next new Whistlefish gallery in the iconic seaside town of Salcombe. Tucked away on the southern coast of Devon, this stunning town is one of Devon's most-loved holiday destinations.
This Devonshire harbour town is situated on the banks of Salcombe Estuary and features pristine sandy beaches, beautiful turquoise waters and an abundance of traditional seafood shacks. Salcombe is one of the prettiest towns in South Devon, and with its picture-postcard harbour, award winning restaurants, pastel-coloured hoses and its very own microclimate, it is easy to see why so many people find Salcombe to be the perfect setting for a holiday.
There's a myriad of things to do in Salcombe, whether its enjoying a relaxing boat trip along the estuary, a thrilling surfing lesson, a day out in a local museum or a fun morning, building sandcastles with the kids. These are all complemented by all the fabulous shops that make line the seafront, of which we are thrilled to soon be part of. 
01209 314908
info@whistlefish.com
Cards
Art
Wrapping Paper
Gifts
Frames