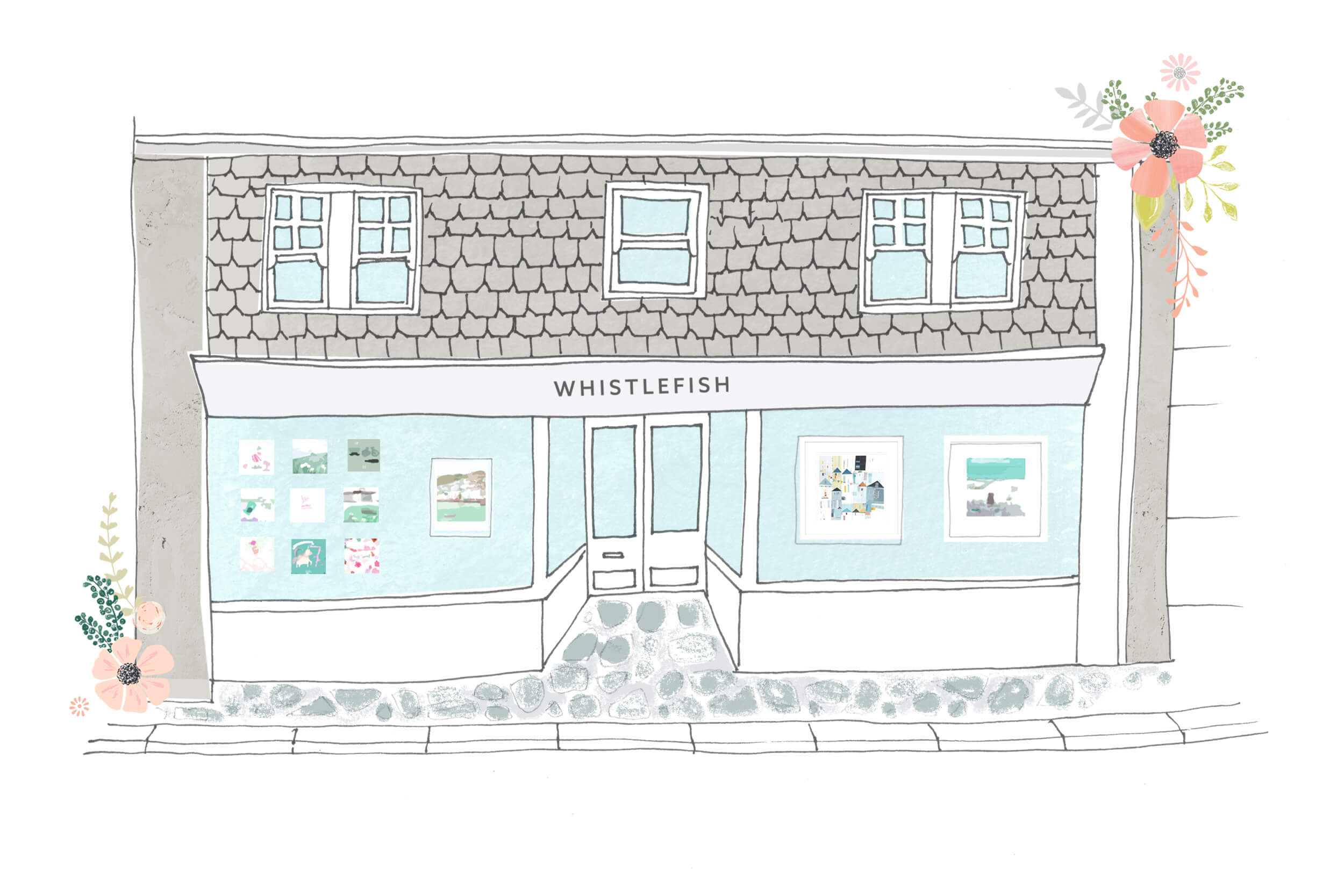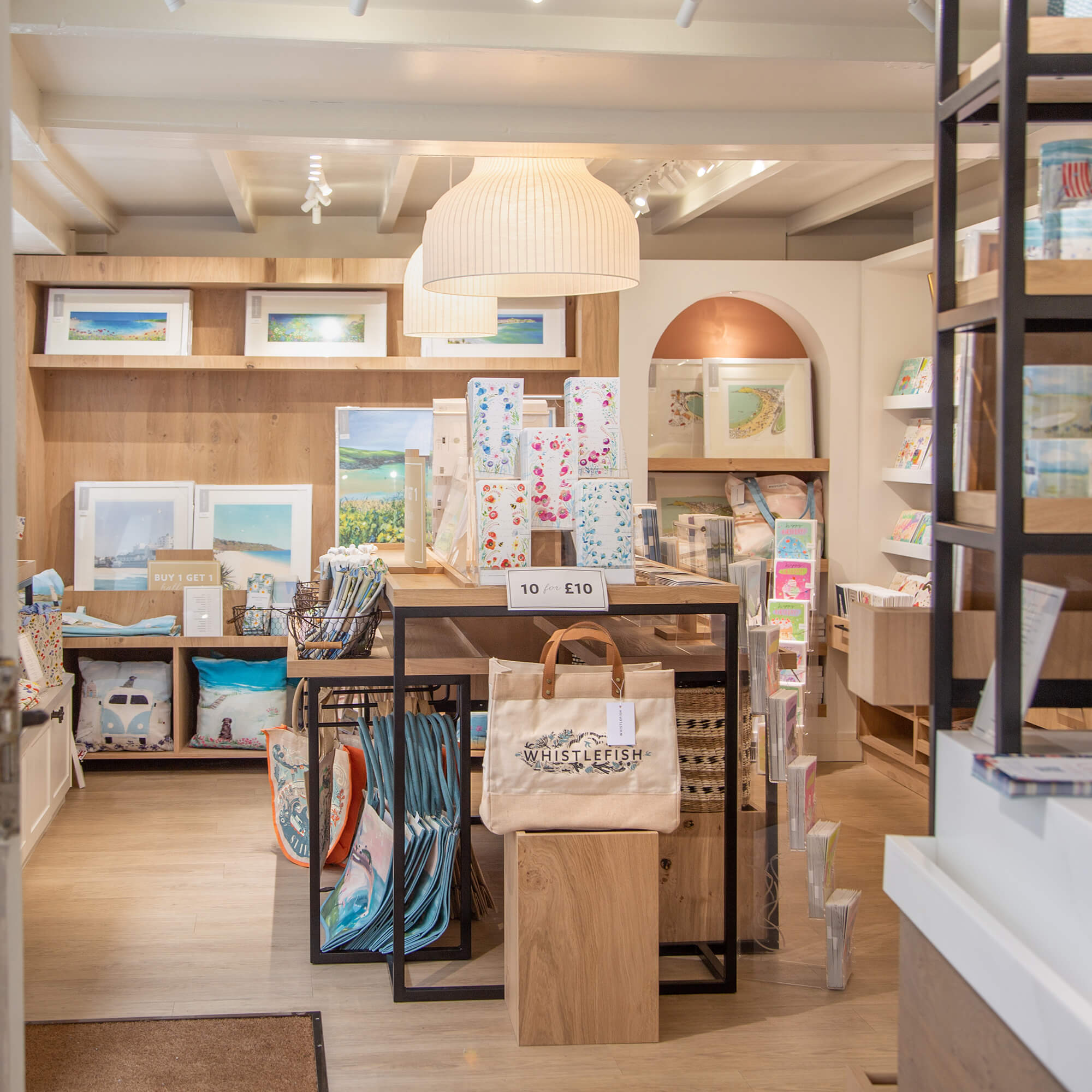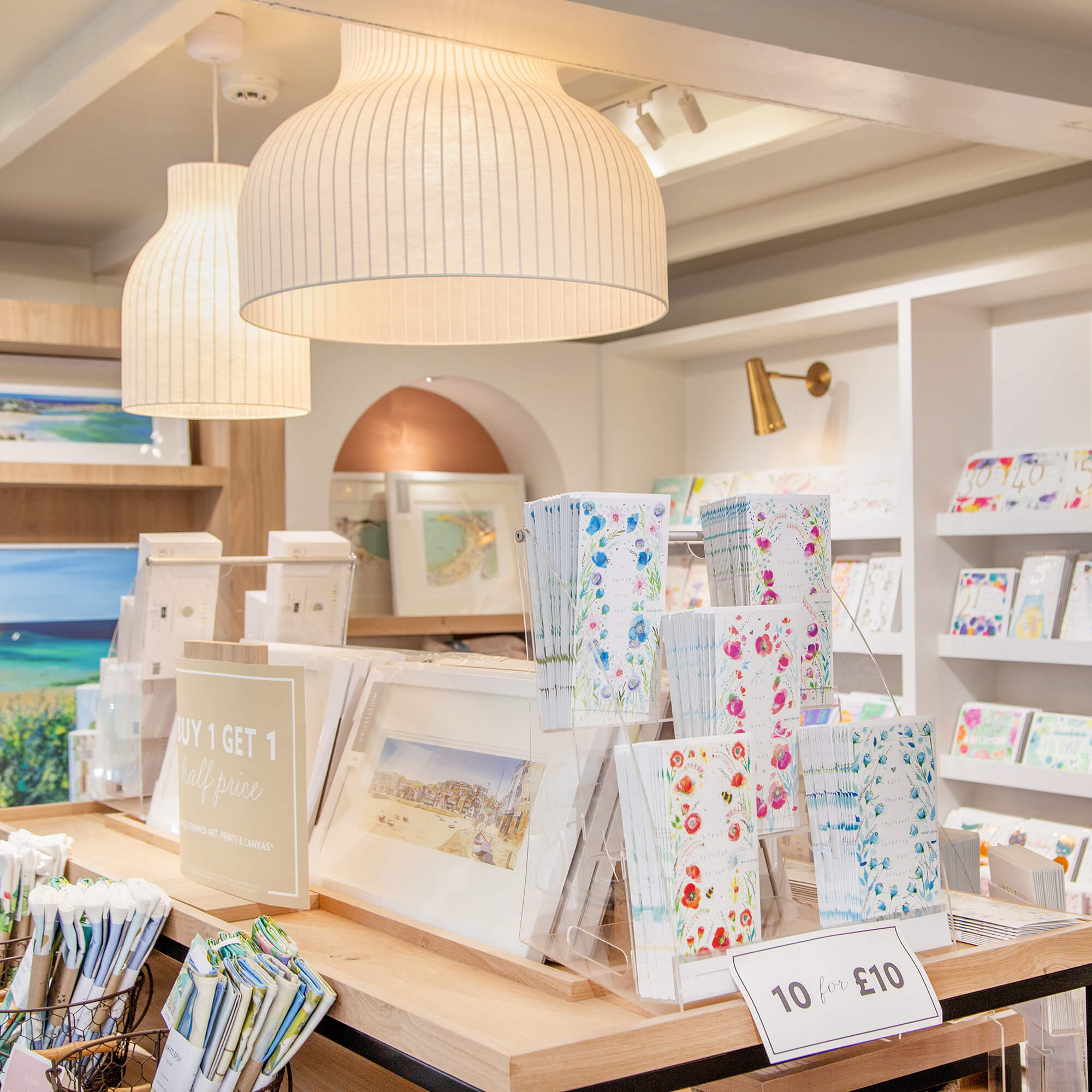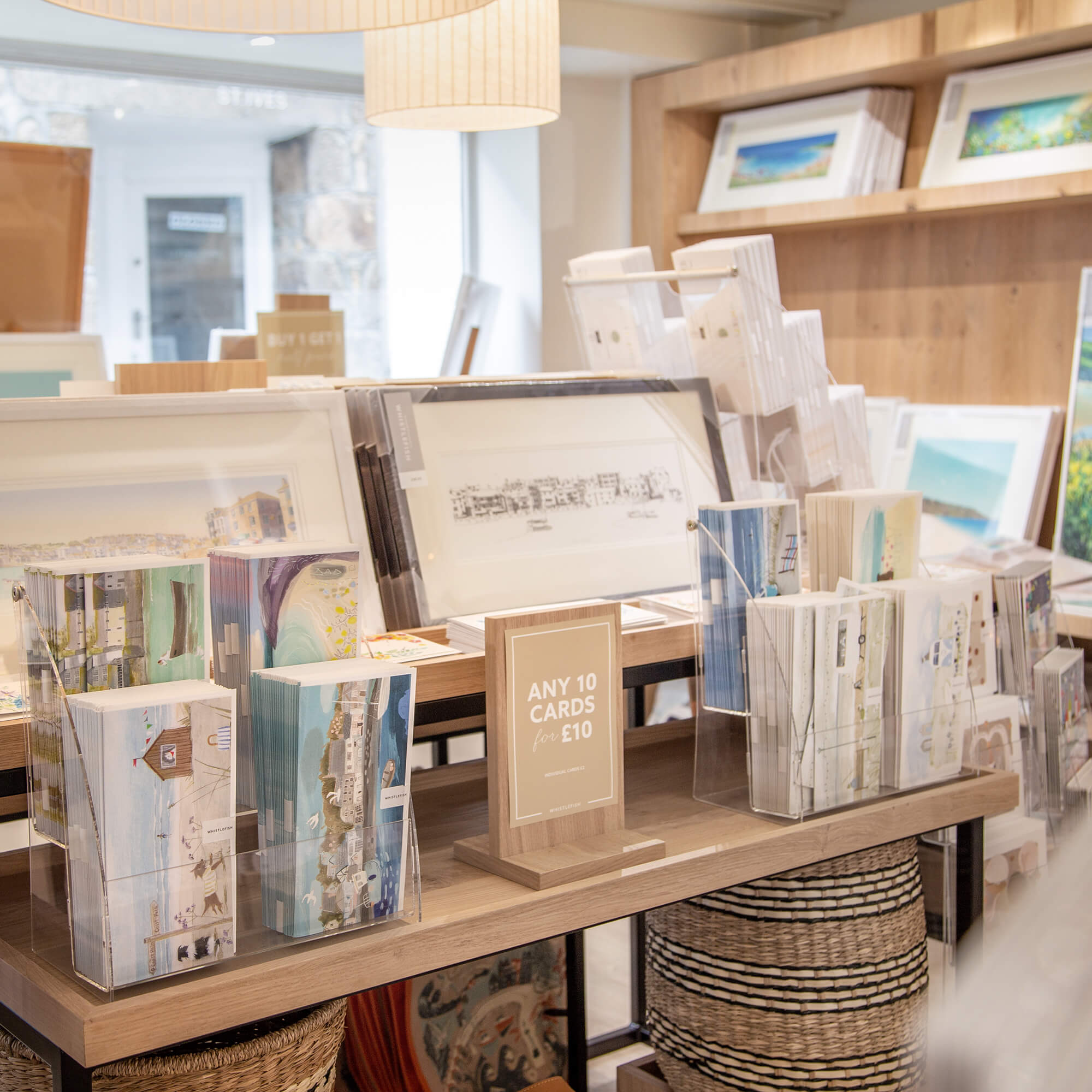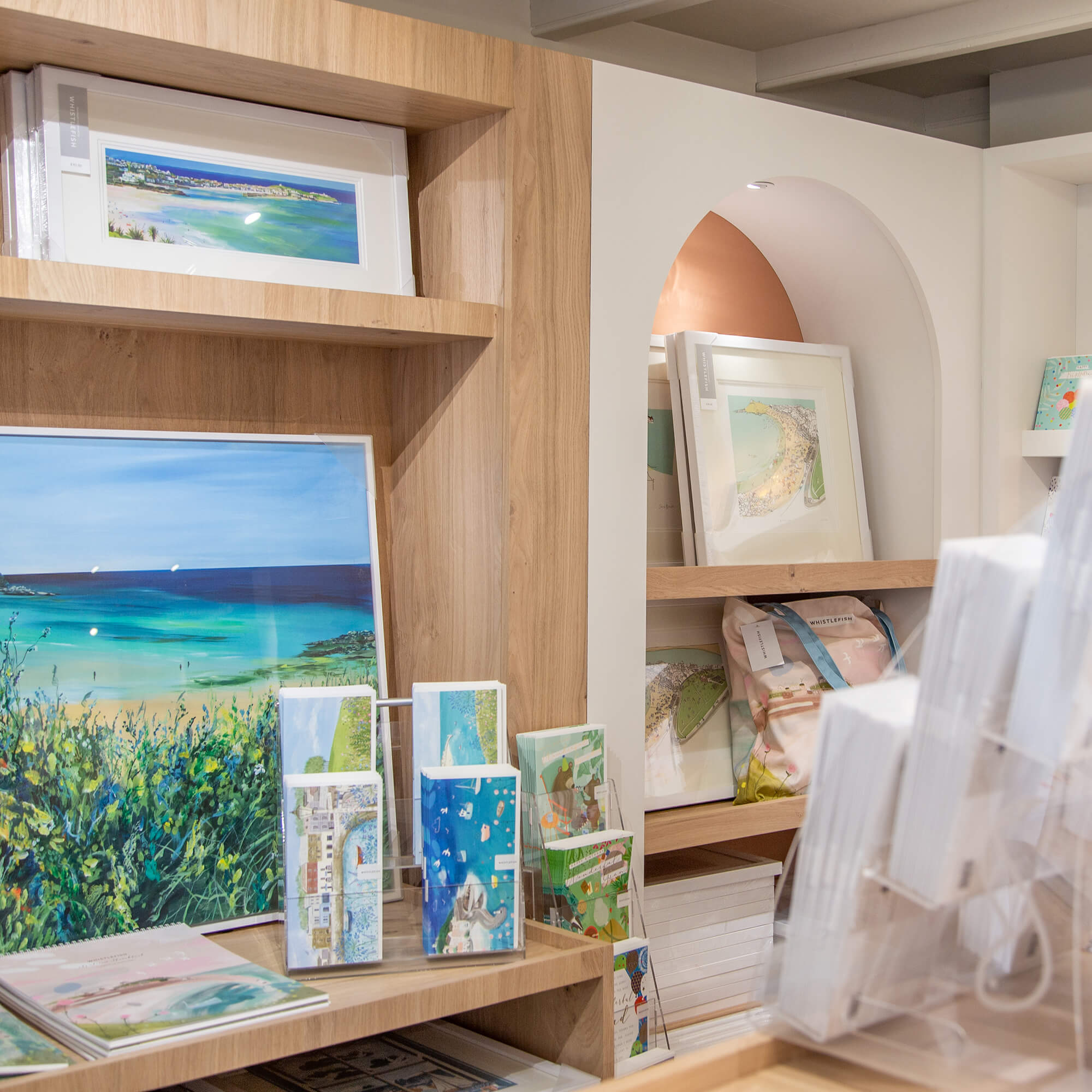 St Ives Gallery - Art
Location
Whistlefish, 56-58 Fore Street, St. Ives, Cornwall, TR26 1HE
View on map
Opening times
Monday

09:00 to 20:30

Tuesday

Today

09:00 to 20:30

Wednesday

09:00 to 20:30

Thursday

09:00 to 20:30

Friday

09:00 to 20:30

Saturday

09:00 to 20:30

Sunday

09:00 to 19:00
Our Art Gallery in St Ives is located on the historic Fore Street. We stock a wide range of traditional and contemporary art.
This is our larger St Ives Art gallery and is just a minute walk from the famous harbour. There is a wide selection of art featuring St Ives and the surrounding area. In addition to our framed prints, canvas and frames we have a large collection of art greeting cards.
St Ives takes its name from an Irish princess and missionary called St Ia. A picturesque fishing harbour and seaside town. Voted best family holiday destination by Coast magazine and one of TripAdvisor's top 10 European beaches.
Winner of a showcase of national awards including best family holiday destination by Coast magazine and one of the 10 best European beach destinations compiled by TripAdvisor, St Ives is a seemingly subtropical oasis where the beaches are golden, the vegetation is lush and the light piercingly bright.
St Ives has been a busy fishing port since the Middle Ages and is believed to have been settled as early as the Bronze Age. Art played a part in the life of St Ives long before the arrival of the Tate gallery. For almost 200 years the unique quality of light and spectacular scenery have attracted artists. JMW Turner, for one, painted a landscape here in 1811. The mid-1900s saw St Ives' reputation as an artistic centre flourish with the arrival of world-renowned modern artists such as Barbara Hepworth, Bernard Leach and Ben Nicolson. Barbara Hepworth's former home and studio, where she died in a fire in 1975, is now renovated and can be visited as a museum with a beautiful garden containing many of her sculptures. 
The town has become a magnet for some of the world's greatest painters, sculptors and ceramists.
01209 314908
info@whistlefish.com
Art
Sale Art
Luxury Cards
Products featuring St Ives - Art